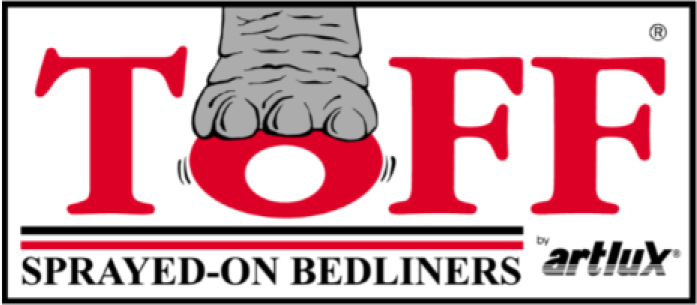 VIN:
LIMITED LIFETIME WARRANTY
TOFF Bedliners ("SELLER") WARRANTS:
This warranty extends exclusively to the original purchaser of the warranted product (the "Customer"); the term of this warranty begins on the date of purchase by the Customer and continues for as long as the Customer owns the vehicle.
The Seller warrants that for as long as the Customer owns the vehicle, the Sprayed-on Bedliner by Artlux® described in this limited warranty is free from defects in materials and workmanship.
For breach of any written or implied warranty on this product, the consumer is limited to the following damages:

REPAIR OR REPLACEMENT COST AS STATED IN PARAGRAPH 5 BELOW



NOTE: Some states do not allow the exclusion or limitation of incidental or consequential damages, so the above limitation or exclusion may not apply to the Customer.




This limited warranty covers the Sprayed-on Bedliner by Artlux®. Seller specifically warrants: A. That the product is guaranteed for as long as the Customer owns the vehicle against defects in materials, workmanship and failure from rust and deterioration of surface to which the product has been applied.

IN NO EVENT WILL THE SELLER BE LIABLE FOR:

Damage resulting from abnormal use, abuse, neglect or accident;
In any case where the Sprayed-on Bedliner by Artlux® has been repaired or modified by other than an authorized repair center
Accelerated corrosion resulting from exposure of uncoated surfaces (s) to substances such as acids, salt water, organic material (s), or other known or unknown corrosives;

Seller is not responsible for any time that the Customer may lose, for any inconvenience the Customer might be caused, for the loss of the Customer's transportation, or for any other incidental or consequential damages the Customer may have.
In the event of a defect, or other failure of the product not caused by any misuse or damage to the product while in the possession of the Customer, the Seller will remedy the failure or defect, without charge to the Customer, within 90 days after notification. The remedy will consist of repair or replacement of the product, at the Seller's option. If the Seller determines that the product examined does not have a defect in either material or workmanship, then Seller shall furnish the Customer with a written denial of claim.
To obtain performance of any obligation under this warranty, the Customer:

Must keep the original sales receipt for proof of purchase; and
Shall contact TOFF Bedliners of Norman

This limited warranty gives you specific legal rights, and you may also have other rights that vary from state to state.
THE LIMITED WARRANTY IS IN LIEU OF ALL OTHER WARRANTIES, EXPRESSED OR IMPLIED BY LAW, INCLUDING THE IMPLIED WARRANTY OF MERCHANTABILITY OR FITNESS.